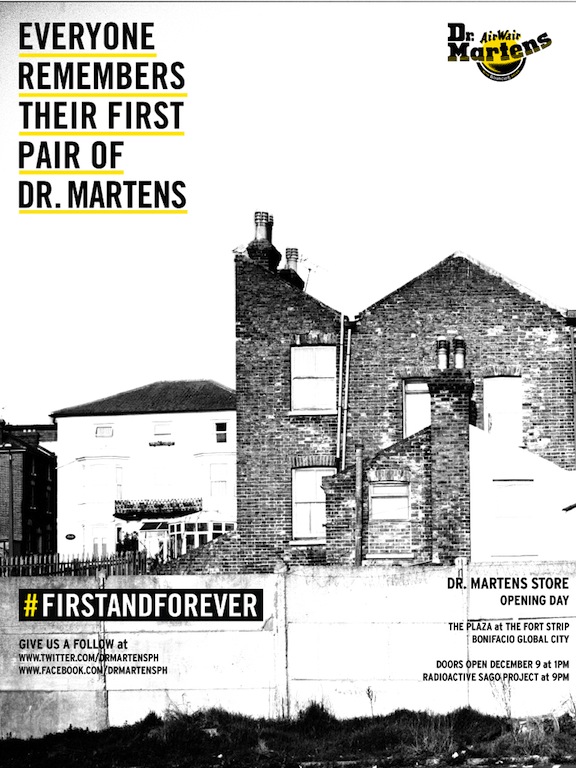 It's here, oh my GAWD it's here!!! FINALLY! Dr. Martens is back in Manila! *exclamation abuse!!!!!!!*
I remembered seeing them in SM North – Annex when I was a kid, and then they were gone for quite some time. One had to go to Hong Kong or Singapore (nearest alr!) to buy a pair of trusty ol' 1460 boots!
Y'all know I'm a boot lover, and there is no way a boot lover can't recognize a DM when he sees one! I'm so excited for this!
You may register here for the opening of the new concept store at The Plaza at Fort Strip on Dec. 9! Find the container van (nice idea, actually) near Puccini! Radioactive Sago Project will be performing at 9pm, but I prolly won't recognize it anymore because I'm in the middle of all those Docs! Sorry, no offense meant. I love RSP! And oh, now you can gift me with a DM without going out of the country *oh yeeeeeah!*
Can't. Wait.
J
P.S. My favorite brands keep on going here in Manila! What else to watch out for? I heard H&M, Uniqlo, and Cotton On are on their way to Manila?! From the people who brought it all for you!!! WAAAAAAAAAAAAAAAAAAAAAAH! Now I can say that F21 isn't the only beautiful thing that hit Manila! I hope Nicola Formichetti drops by when Uniqlo opens *omgomgomgomgomgomgomgomgomgomgomg*